Master in Engineering Management, abbreviated as MEM, is a graduate program aimed at engineers who want to be leaders in a technical environment or who want to advance into managerial roles.
MEM is a popular choice among students are looking for a more diversified role in the industry as a program manager, consultant, data analyst, construction manager or financial expert.
In a world where technology touches almost all aspects of life and business, students with a MEM degree fit seamlessly into today's high-tech companies that need tech-savvy leaders for data-driven decision making and innovation-driven global strategy and growth.
Here is a list of 5 BEST Engineering Management programs with upcoming deadlines in FALL 2020
University of California, Irvine is strategically located in the heart of Orange County, the second largest county in the state. It's also at the center of Southern California's Tech Coast, with Irvine being the primary breeding ground for on-the-rise businesses and industries – mainly biotech, medical, fashion, real estate, finance and auto design. Innovative companies, such as Allergan, Abbott Medical Optics, Boeing, Kingston Technologies, IBM, Sage, Toyota, and V
Program Structure
The MSEM program requires a minimum of 17 courses beyond the bachelor's degree. Students complete a two week orientation and an intensive course in September preceding the Fall Quarter, which presents fundamental concepts of management to initiate students into the concrete challenges that managers in high performing organizations typically confront.
Class Profile
Class Size: 15 (yes, it's super selective!)
Average Age 23
Average GPA 3.43
Average GRE Quant 162
Average GRE Verbal 150
Companies Hiring UC, Irvine MEM Graduates
Amazon
Applied Medical
Deloitte Consulting
Experian
JNN Group
Medtronic
Novartis Alcon
Odoo Inc
RealDefense, LLC
Shimmick Construction Co
Positions hired for
Associate Product Manager
Associate Project Analyst
Business Analyst
Business Data Analyst
Clinical Development Specialist
Consultant
Data Analyst
Manufacturing-Production Engineer
Project Engineer
QA Engineer V
TS Technical Analyst
Salary Range
Annual Base Salary
Mean $78,185
Median $72,000
Low $55,000
High $120,000
Program Highlights
Real-word Case Study: Work with a team and consult with a biotechnology company to solve a real management problem
Brand Name: The Paul Merage School of Business at UC Irvine consistently ranks among the top 10% of business schools in the world.
Located in West Lafayette, Purdue University consistently ranks among the Top 15 Universities of USA. The university is also part of the MEMPC (consortium for Engineering Management programs) and offers the MEM program to develop strategic and business skills in engineers. Upon completion of the master's programs, you will be able to demonstrate design and development of products and processes at the systems level. You will be able to ensure quality of products or processes through design and development, manage organizations and people, make sound engineering decisions, and communicate and negotiate within a global engineering discipline. The program will significantly increase your value as a professional to help advance your career path.

Program Structure
Accelerated Engineering Management (1-year Option) – This accelerated 1-year master's program is designed to broaden students' engineering knowledge in systems engineering and business leadership at an advanced pace.
18 Credits of Engineering
+ 9 credits of management
+ 3 credits of elective study (in engineering, math or business)
30 credit hours to complete the degree

Engineering Management with Professional Practice (2-year Option) – This master's program is specifically designed for recent college graduates who desire an on-site co-op as part of their graduate experience. This is a 21-month program that includes a paid 12-month co-op assignment in industry.
18 Credits of Engineering
+ 9 credits of management
+ 3 credits of elective study (in engineering, math or business)
+ 1 year of Professional Practice in a graduate co-op or internship
  30 credit hours to complete the degree

Class Profile
International Students: 82%
Average Student Age: 23
Students Enrolled: 50
GRE Verbal: 154 Average
GRE Quantitative: 164 Average
Companies Hiring Purdue MEM Graduates
Amazon
Apple
Audi
BASF
Boeing
Catalent
Cummins
Deloitte
Ford
Intel
General Electric
Halliburton
Hormel Foods
Positions hired for and Median Salary
Business Intelligence Analyst / Data Analyst – $88,510 Median Salary
Production, Automation and Manufacturing Engineer – $97,250 Median Salary
Technical Sales Engineer – $98,720 Median Salary
Supply Chain Manager – $105,610 Median Salary
Management Consultant – $82,450 Median Salary
Program Highlights
Purdue University Graduate School Rankings – 9th Graduate Engineering Program from U.S. News & World Report & 10th Public MBA Program from Financial Times
Has a professional practice focus – Opportunity to do paid co-ops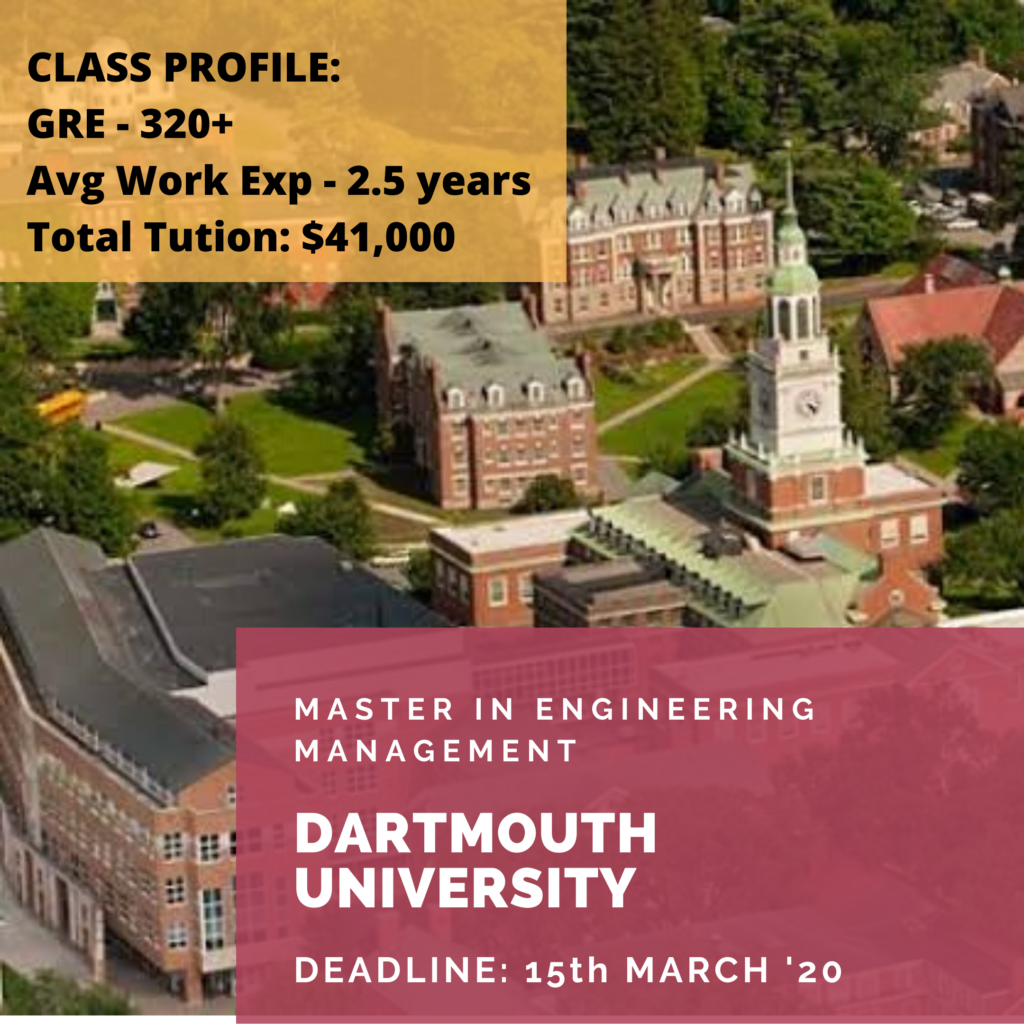 This just might be the best college town," read the headline of a story in the January–February 2017 issue of Yankee.‍ Hanover is situated in the heart of the Upper Valley, a picturesque region of New Hampshire and Vermont that combines the culture and benefits of an Ivy League institution with the beauty of small-town New England.
Opportunities to experience the outdoors abound — skiing, hiking, and boating on the Connecticut River are all just steps from campus. Close to Boston (2 hrs), Montreal (3 hrs) and New York (5 hrs), Dartmouth offers rural living with easy access to the city.
Taught by faculty from Thayer School of Engineering and Tuck School of Business, the MEM program at Dartmouth provides students with an immersive experience that broadens technical knowledge, deepens business expertise, and diversifies professional experiences and connections.
Program Structure
There are three areas of focus: Data Analytics, Product Management and Entrepreneurship
Duration: 15-months, 9 core courses (includes Operation Research, Data Analytics, Accounting, Finance), 3 electives (can be taken from Tuck School of Business)
Salaries of Dartmouth's MEM Graduates
‍$80,000 (25th Percentile)
‍$89,500 (Average)
‍$100,000 (75th Percentile)
Hiring Companies and roles of Dartmouth's MEM Graduates
APT Associate Product Manager
Abbott Labs Corporate – Quality Engineer
Adam America Real Estate – Assistant Project Manager
Amazon – Business Intelligence Engineer
American Express – Data Scientist
Berminal – Product Manager
Black & Veatch – Consulting Analyst
Capital One – Product Management and Analytics Associate
Coho Partners – Analyst
Credit Suisse – Data Analyst
Dana-Farber Cancer Institute – Product Analyst
Diamond Foods – Productivity Manager
DraftKings – Business Data Analyst
EDP Renewables – Performance Analyst
Eminence Ventures – Investment Manager
Equilend – Associate Data Scientist
Program Highlights
Dartmouth is an IVY LEAGUE and the smallest one at that.
Multiple focus areas of MEM program.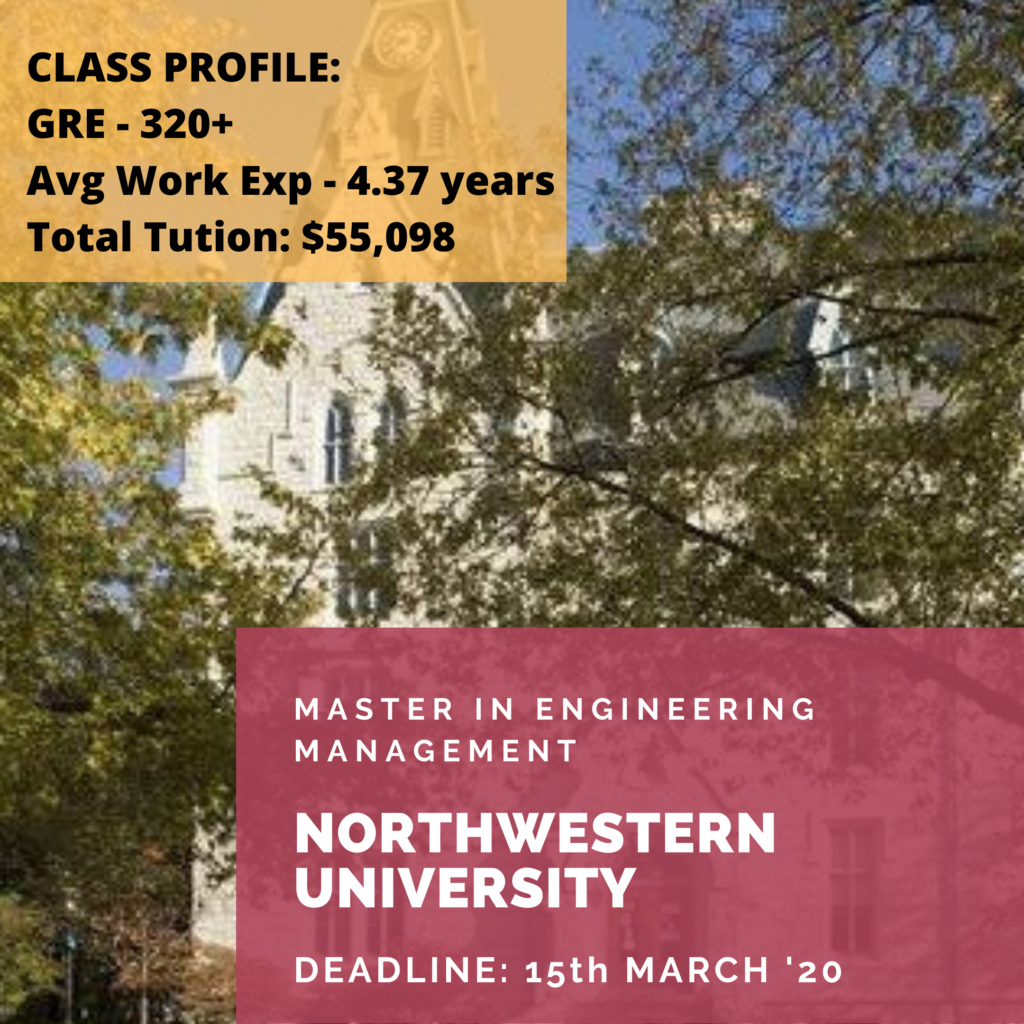 Collaboration with other great Northwestern resources: Kellogg School of Management, Farley Center for Entrepreneurship and Innovation, and other engineering professional master's programs. Northwestern University is a member of the Master of Engineering Management Programs Consortium (MEMPC), a group of highly recognized professional graduate engineering management programs that is working to raise awareness of engineering management. Other members include Cornell, Dartmouth, Duke, Johns Hopkins, MIT, Purdue, Tufts, and USC.
Program Structure
Areas of Focus

Innovation — Taught from a product development and organizational perspective, students have the opportunity to focus on the development of an individual product as well and an entire business.
Strategic Thinking — Students develop the ability to discern the long-term business implications of financial performance and external factors.
Leadership — Students focus on issues surrounding team leadership such as: communications, conflict resolution, decisiveness, task orientation, and self-management.
Core curriculum in marketing, finance, accounting, and engineering management with a graduate level engineering education. Students learn the basics of management, quantitative analysis, and behavioral science and choose advanced engineering electives in their area of specialization.
A minimum number of 12 courses is required to earn the Master of Engineering Management degree.
Class Profile
Average Age: 31
Work Experience: 4.7 years
International Students: 47%
Average class size: 20
Program Highlights
Top companies also regularly engage with graduate MSEM students via the Team Consulting project where MSEM students address our clients' current challenges or provide insights to shape future products or services.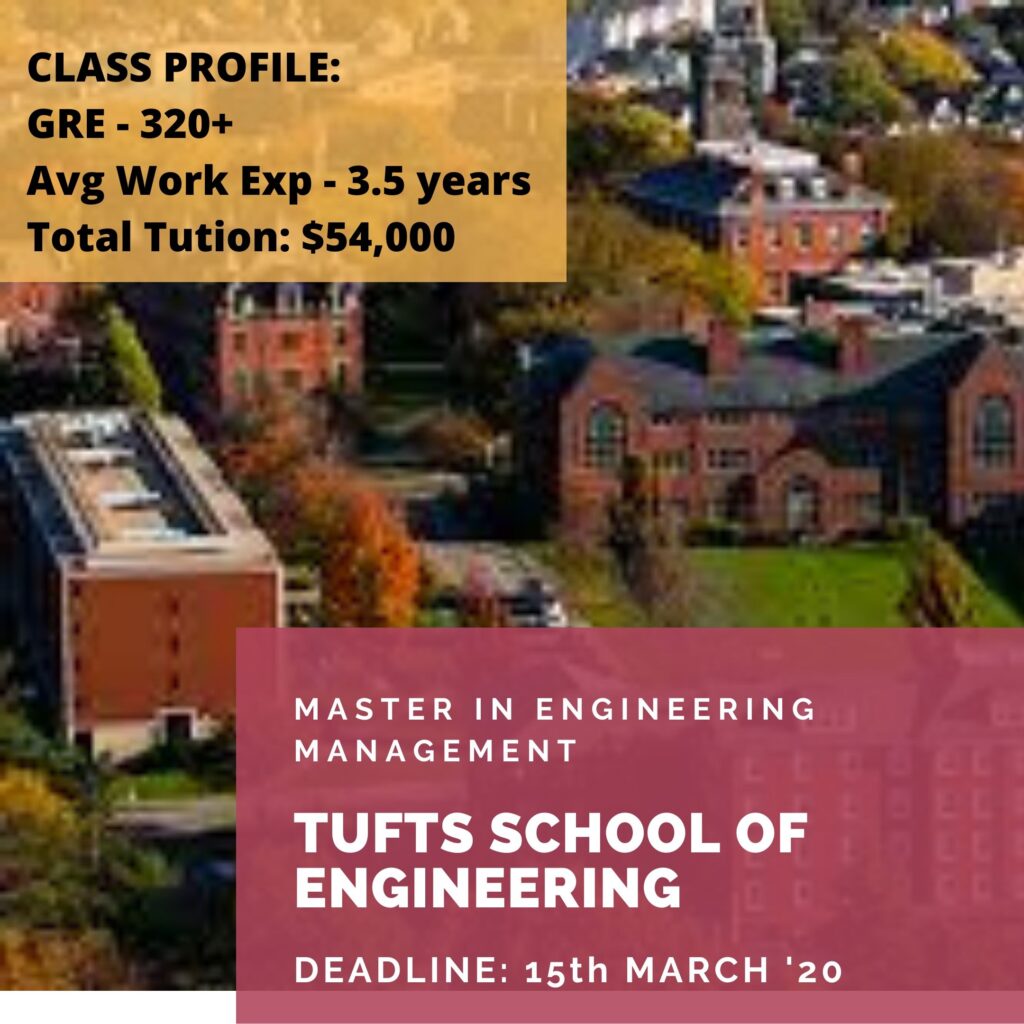 The university is located in Medford and Somerville, Massachusetts, with its main campus located on Walnut Hill which is about 8 km from Boston. 
Program Structure
Two-Year and Three-Year MSEM complete the same 16 short courses on topics across core themes, as well as an Industry Consulting Project. 
Fall semester (1st Year): 6 Credits
Spring: 7 Credits
Summer: 3 Credits (Industry Project)
Fall (2nd year) 4 credits
Spring: 3 Credits
Class Profile
Average Age: 30
Class Size: 62 students
International Students: 11%
Hiring Companies for Tuft's MEM grads
IBM
Johnson Controls
Johnson & Johnson
Kleinfelder, Inc.
L-3 Communications
LG Electronics
LIG Nex1 Co., Ltd
Lonza Biologics
Lytron Inc.
M/A-COM Inc.
McKesson Corp.
McNamara/Salvia, Inc.
Medtronic
Millennium Pharamceuticals
MIT Lincoln Laboratory
Program Highlights
Big focus on entrepreneurship, acts in collaboration with Tufts Entrepreneurship Center
Brand name of the Tufts School of Engineering
Got some more time? Check out these resources