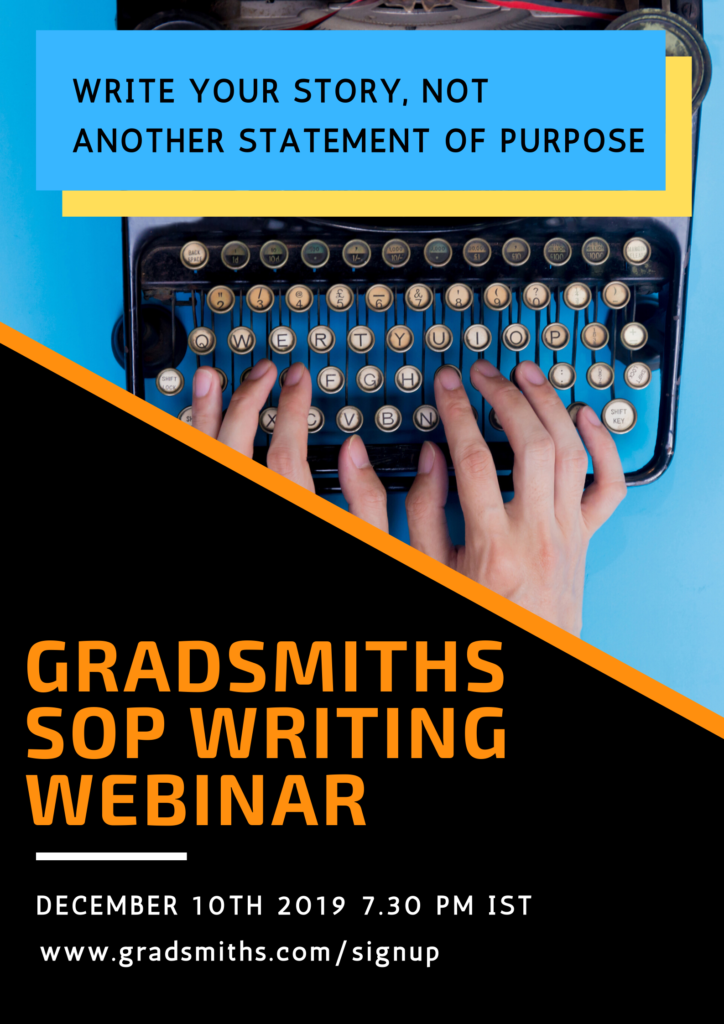 If you are in the process of drafting your all-important Statement of Purpose (SOP, for the uninitiated) for graduate programs like Master of Science, Engineering Management, MBA this WEBINAR might just help you out.
Get started on the basics of how to craft a wining SOP that makes the Admissions Committee go…..
Why should you attend this?
Application deadlines of some of the most competitive graduate programs in US, in the speciality areas of Computer Science, Information Technology, Business Analytics, Mechanical, Engineering Management, Architecture, MBA, et al. are approaching faster than you think.
Colleges like Cornell, Carnegie Mellon, Columbia, UCSD, USC, UPenn, UIUC, Purdue, Stanford, and many other prestigious ones have their Fall 2020 application deadline in December and January.
Naturally, you must be super busy drafting your SOPs and would want to know HOW to create your own SOP, which sells your best story to the AdCom.
At Gradsmiths, we have seen all kinds of SOPs – the good, bad, ugly, and the ones which made us think 'Who writes that in a SOP! Are you kidding me!'
The Good NEWS: Based on our observations, we wanted to put our thoughts across through this WEBINAR. It might, just might, end up making your SOP better. Actually, it will. We know 🙂
Host
Your host for the evening will be Gradsmiths Co-founder, SUBHKIRTI SINHA
About Subkirti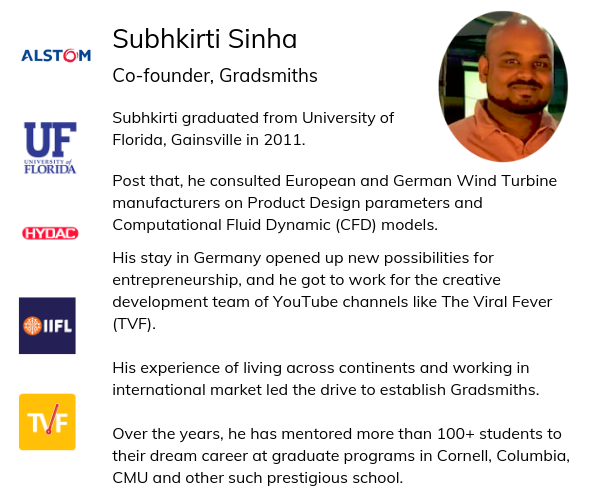 https://www.linkedin.com/in/subhkirti-sinha/
Details of the WEBINAR
Register at this link. We send you a mail, regarding the meeting link and how to join the webinar. Book your calendars. See you on the 10th of December, 2019. 7.30 PM sharp. Ok Charlie?
Check out our wildly popular E-book on 'Writing Impactful Essays' to get started!