Carnegie Mellon University (CMU) is a dream for a lot of students who want to pursue their grad degree. CMU's brand, reputation as a world-class innovator in educational practices, and alumni which includes several Nobel Laureates and Turing Prize winners, features it among the most 'ambitious' universities wishlist for numerous prospective candidates of Computer Science, Construction Management, Industrial Engineering, Information Management, Business Analytics and Data Science.
CMU attracts more than $380 million in research funding each year and was recently named among the top 10 U.S. universities for technology transfer. That makes it a hotbed of tech giants like Apple, Google, Amazon and Facebook, looking out for their next data scientists and AI developers. Naturally, the most coveted jobs in the Silicon Valley is up for grabs at CMU and its research centres.
But, this also makes CMU highly competitive to get in. Looking at the past trends of admissions, the acceptance rate to CMU's graduate programs like Master of Science, Master in Information System and Management (MISM), or Business Intelligence and Data Analytics (BIDA), stand at around 10-12%. Thus, while applying to the MISM program, Adarsh was naturally skeptical of his chances.
About Adarsh
Adarsh completed his undergraduate from Sardar Patel Institute of Technology, Mumbai. With a 8.37 CGPA, he was among the few to be selected as a Software Engineering Analyst at JP Morgan Chase. While working as a full stack application developer, he discovered aspects of cloud computing and got hooked to it.
After working with JP Morgan for 2.5 years, Adarsh set his sight on upgrading his skillset to advanced areas of cloud computing. His career goals were to be at the forefront of research while developing solutions such as true serverless computing, implementing better scalability algorithms using Machine Learning, and improving the viability of the Gaming-as-a-Service concept.
With this in mind, he was applying to the CMU's MISM program. His GRE scores stood at a healthy 321 (167 Q 154 V), but given the reputation of CMU, all he could do was to write a sparkling SOP, fine tune his CV, speak with his recommenders to give him excellent LORs, and then…. PRAY!
MISM program
CMU's MISM program is a 12 or 16 month track with a comprehensive curriculum in technology design and implementation, business strategy, professional communication, and management.
It is offered by CMU's Heinz College and is an ideal fit for students who not only wish to design and implement technology, but wish to be leaders in this space with the ability to drive business decisions, communicate value, manage projects, and inspire others. The world's top firms across technology, finance, retail, and consulting seek CMU's MISM graduates, often offering six-figure salaries right out of school.
The coursework looks like this:
FIRST SEMESTER (FALL)
Internet of Things
Object-Oriented Programming in Java
Database Management
Organizational Design and Implementation
Statistics for IT Managers
Economic Analysis
Writing for Information Systems Management
SECOND SEMESTER (SPRING)
Telling Stories With Data
Consulting Lab
Managing Analytics Projects
Distributed Systems for Information Systems Management
Decision Making Under Uncertainty
Financial Accounting
Principles of Finance
Professional Speaking
–REQUIRED SUMMER INTERNSHIP–
THIRD SEMESTER (FALL)
Information Systems Capstone Project
Intro to Artificial Intelligence
Blockchain Fundamentals
Web Application Development
Design Thinking
Digital Transformation
Managing Disruptive Technologies
Adarsh's SOP approach
The best part of Adarsh's profile was his job experience with a reputed financial brand like JP Morgan Chase. Obviously, that gave him something to play with in the introduction paragraphs. Using this as a starting point, we helped him in charting out a story that brought out the best aspects of his projects in cloud computing and building legacy applications.
His exposure to Agile and Lean Methodology for the Software Development Lifecycle burnished his story further in terms of preparedness for grad school.
After about 3 rounds of edits, we reached the final master draft, which was further customised to universities such as CMU, SJSU, UTA, GATECH and UIUC.
SOP that made it to CMU
CMU-sample-essay-MISM.docx

Result
Adarsh got into three programs – CMU MISM, SJSU MS in CS, and UIUC MS in CS. He chose CMU as it was one of his dream university. We couldn't be happier!
Want to get your SOP reviewed by experts of Gradsmiths?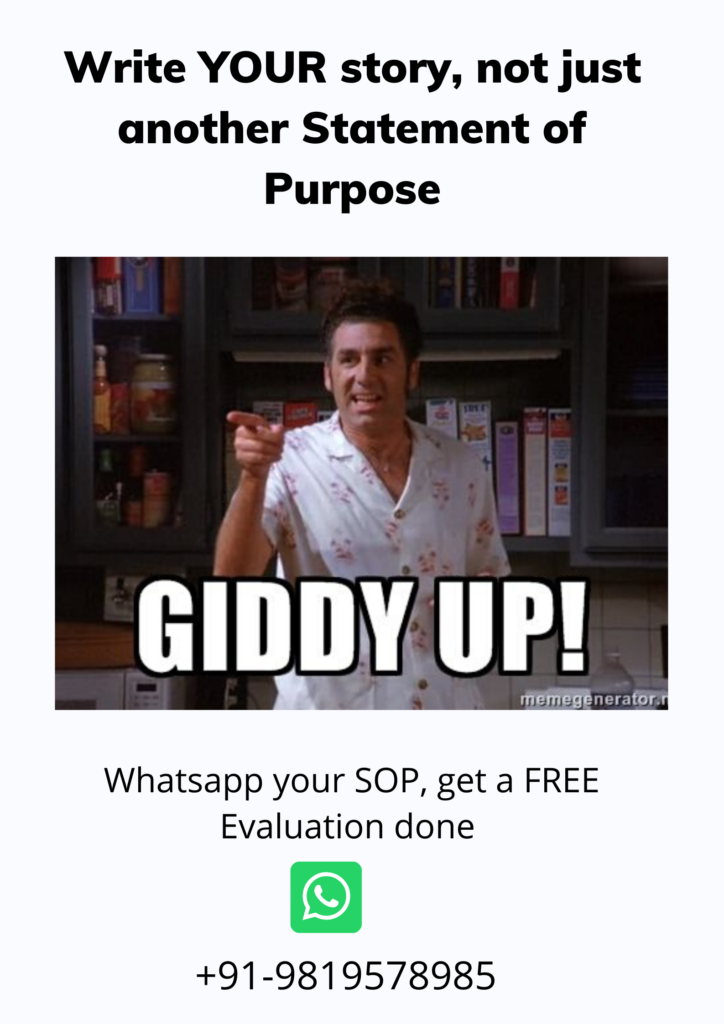 Read Mridul's journey into Data Science program at UPenn