What is Engineering Management
Master in Engineering Management, abbreviated as MEM, is a graduate program aimed at engineers who want to be leaders in a technical environment and who want to advance into managerial roles.
MEM is a popular choice among students are looking for a more diversified role in the industry as a program manager, consultant, data analyst, construction manager or financial expert.
In a world where technology touches almost all aspects of life and business, students with a MEM degree fit seamlessly into today's high-tech companies that need tech-savvy leaders for data-driven decision making and innovation-driven global strategy and growth.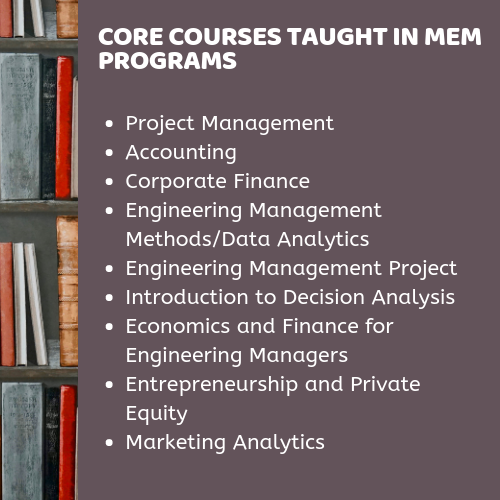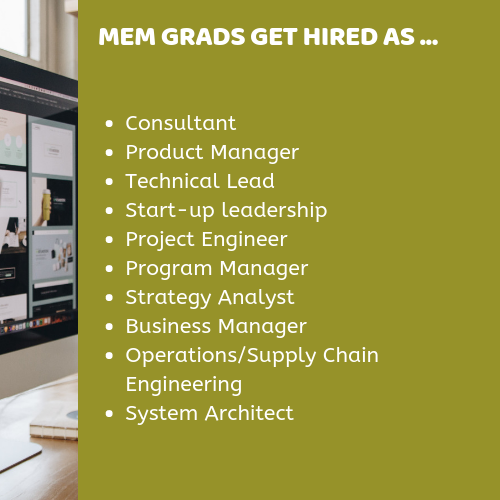 The Master of Engineering Management Program Consortium (MEMPC) is group of graduate programs at Universities such as Cornell, Dartmouth, Duke, John Hopkins, etc. They bring the right people to the right program and right students to the right job.
The Master of Engineering Management Programs Consortium (MEMPC) is a dedicated and highly selective group of forward-thinking universities working together to promote engineering and management programs to students and organizations. MEMPC is devoted to sharing best practices in engineering management education and creating a knowledge and talent pipeline between students and employers through outreach and partnerships.
Companies who hire MEM graduates