Read Time: 5 Minutes
Imagine this.
You are a 22 year old Indian guy.
You have never lived outside the comforts of your sweet, cozy, middle-class home.
Your daily routine includes attending a '9-to-5' engineering college, sorting attendance issues, killing in PUBG and answering calls of your mother like "Jaa neeche se dhaniya le aa."
Krishna Damaniya was all of that.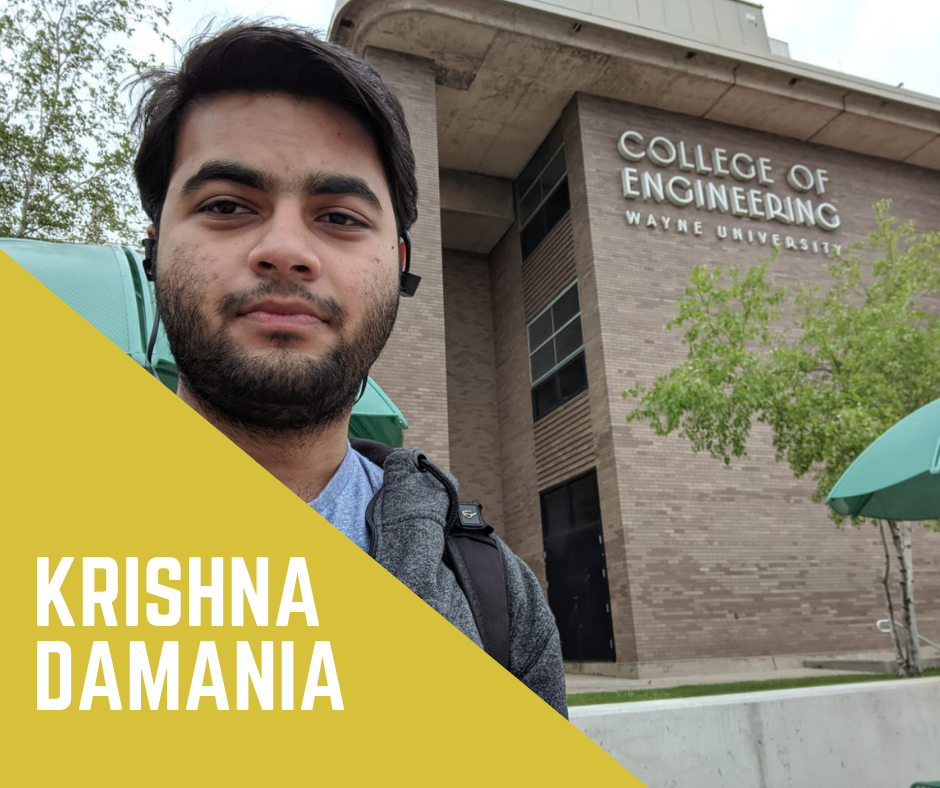 Then one bright-sunny day, he landed up in the Detroit, for his Master's course in Mechanical Engineering at the Wayne State University.
He couldn't have come to a better place though. Detroit, being the automobile capital of thee world, is sort of a nerd wet dream for mechanical engineers around the world.
But then, Krishna says and we quote "It was my first mistake"?
I know, right! We are as confused as you are.
So, we at GRADSMITHS caught up with Krishna Damania, and he told us about his journey so far.
Take us through your grad journey
My grad journey in the USA started was a combination of two things: Myth busting about the kind of effort it takes to land up with any jobs (part time or internship), and a first-hand introduction to the student life here. And if you don't have an experience of living outside the comforts of your home in India, and are a 22-yr old like me, it will be a bumpy ride for you in the beginning. But then, 3 months down the line, you start adapting to your program and start building your profile.
If I were to describe it it one sentence, it would be 'Grad studies takes a lot of patience'.
Why would you say that?
Because, it just takes a lot of time and effort to complete your studies.
There will be weekly assignments, you won't have much time to chill and party. Plus, any jobs that you apply to will take a lot of calling up, meeting with people, follow up, and ultimately rejection.
Rejections is not an easy thing to take. You need to be patient with that.
But, if you are at it, eventually the system will give in to you. I found my last part time job after getting rejected, not once but twice, from the same guy.
That's a lot of luck right there.
It is, but it is also just keeping in touch with him, whenever I heard from my peer group that he is looking out for people. There are virtual job-boards to apply for part-time jobs such as Handshake. You have to keep looking for openings there.
When I approached my current employer the first time, I was rejected since I did not follow up properly. The second time, when I got a chance to interview, someone else was selected for the same position.
One day, while working at Taco Bell (my previous employer), this guy called me up and asked me if I am still looking for a part-time position. I said yes, and after 5 mins of 'interview', I was hired.

Quite an interesting story! But, let's back up a bit. Just for a better understanding of our readers, tell us about your undergrad.
I did my undergrad from Mumbai University(Thakur College of Engineering Technology) in Mechanical Engineering. Scored 303 in GRE (don't remember the verbal score), and got into Wayne State at the Master's program in Mechanical Engineering. And there is where I made my first mistake.
A mistake?
Yes, had I known better, I would have chosen Industrial Engineering at Wayne State. The curriculum is much relaxed, and students have to the time in indulging in other activities besides academics.
But no, I was joking. Have no regrets about joining Mechanical.
Actually, it's the most popular choice among Indian students for mechanical engineering.
Why so?
Because it's in Detroit city, and it's close to all these automotive giants like Daimler and FCA Chrysler. FCA is like a 20 min ride from my college. So, we have amazing opportunities to develop connection with the industry.
Yeah, that would be attractive to a lot of people
It is. And that is why, mechanical grads here face a lot of competition. So, here is how the department of Mechanical Engineering is constructed. It is divided into three broad areas:
Design, Thermal, and Biomechanics. If I have to be very specific, the three research thrust areas are "Noise and Vibration Control", the "Advanced Materials and Manufacturing", and the "Advanced Propulsion and Energy Systems". In addition, many Biomedical Engineering courses are cross listed with ME courses and are available for ME Graduate students to take and be considered towards their degree.
A student can select which area he wants to specialize in. You need 32 credits to graduate, and mechanical engineering has all the courses of 4 credits. So, you need to take 8 courses in total.
Since we are talking about the courses, do you recommend any software/skillset that a student should improve upon before he comes to the grad school.
Of course.
If he/she is planning to go for product design or in general for Mechanical Engineers, knowing Solidworks, HyperMesh, NX, CATIA, MATLAB will be a great plus. It helps you immensely if you are already good in something like CATIA, which will be required in most of your courses. So, you don't have to depend on others to do your weekly assignments and other design related projects
Plus, mechanical engineers should gain some hands-on knowledge of technologies like HTML, website building etc. These can come in handy for applying for part-time jobs.
Great! So, how has been your career progression been at Wayne State?
TBH, it was tough in the beginning. I came here a month before the Fall semester (August) starts. My aunt lives in Detroit, so I had an advantage of getting the housing sorted.
I started living with my aunt, but it was difficult to make contacts and be connected to the students from her place. So, I took on-campus accommodation. My roommate is 29-yrs old, Indian, and works for Magneti Marelli, a global component manufacturer for the auto industry.
I like being on-campus, as it gives you the opportunity to interact with a lot of international crowd.
I have just been offered an internship position at KPS Manufacturing, where I will be working as Mechanical Engineering Intern. The work responsibility is design and make reports of the various automotive parts, so I guess I will be using a lot of softwares which I mentioned before.
That's awesome! How did that happen?
A reference worked. That's the main thing when you come here. You need to either have a reference or build one, in order to get a job.
To build it, you have to network. And to network, you have to invest a lot of time into it. Go out, hang out with people, be at networking events, be in touch with recruiters, follow up with them, wait for their replies. It's a time taking process.
Of course, you have to start with your basics first. Improve your LinkedIn profile, be prepared with the interview questions, etc.
Right.. and how much do students get paid for such kind of internships
That depends upon the location where he got the internship. Generally, the range is between 13$-30$ per hour
One good thing about being here is that the university allows you to continue with your part time job along with the internship during summers. So, you can work extra hours and earn money to take care of your living expenses.
Oh! That's something new.
Yeah, and many students do that. If they are doing their internship in the Detroit area, they continue with their part-time jobs as well. Earn quite a good amount during their summers.
Nice. And how is the job scene in WYU? Full-time jobs?
If you ask me, I would say it's quite competitive. I know people from the Fall 2017 batch, who are yet to find even an internship. But then, I also know people are placed at top companies like Daimler and draw a hefty pay cheque.
Overall, if you see, most people end up finding jobs, either by being direct recruits or by being employed by the manpower hiring companies who are clients of giants like FCA Chrysler.
And with all the Trump news, is it true that people are getting less jobs?
My opinion is that Trump wants students to come here in USA, get a higher degree and then get a job. Infact, I was reading about how H1B lottery chances has increased for the students who wants to come here on F1 visa and later work on H1B. So students should be more confident when it comes to choosing USA for masters.
Great! On that note, we would like to close this conversation. If you want to add anything to the above, what would that be?
Work for a year or 2 in india understand which path you need to pursue in your field. And then come here. Struggle to find internship would be a bit less. But at the same even a fresher eventually ends up with a job.
Krishna, it was great talking to you. All the best for your Internship.
Thank you
Fact Sheet of Wayne State University's MS in Mechanical Engineering program
Class Size: 25
Thrust Areas:
Advanced Materials and Manufacturing
Advanced Propulsion and Energy Systems
Noise and Vibration Control
Class Diversity: 70% Indians, rest Chinese and Americans
Careers for students pursuing master's degrees
Product design engineers
Mechanical engineers
Analysts
Consultants
Controls and systems engineers
Researchers
Developers
Robotics engineers
Research Areas
biomechanics
energy conversion
combustion engines
emissions controls
machine design
manufacturing processes
computer graphics
structural health monitoring
continuum mechanics
fluid dynamics
micropower generation and harvesting
acoustics and noise control
laser diagnostics
composite materials
Research Groups (possibility of funding options)
Advanced Composites Research Laboratory
Center For Automotive Research
NVH Lab
Dr. Ming-Chia Lai's Research Group
Dr. Tan's Vibration and Acoustic Research Group
Check out Shristi's application strategy as she enrols for a MS in Computer Science at University of Southern California.
Looking to get expert's advice on your profile and application strategy. Find out how Gradsmiths can help you get there